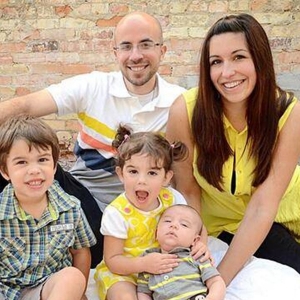 Noelle & David
I was in a relationship with someone I was prepared to marry, but there were lots of warning flags I was ignoring. Finally I prayed, asking the Lord what I should do. He said very clearly in prayer that He would be with me if I chose to stay in the relationship, or I could let it go and trust that He had something better. I decided to trust Him. I concentrated on my relationship with Him and that's when someone recommended Ave Maria. She ,too, had met her husband through the site. I was very hesitant to try to meet anyone online. I prayed about it and decided to give it a shot. It wasn't too long before I met my husband, David, but I didn't think it would work out between us because he lived in Massachusetts and I lived in Michigan, so I almost didn't respond to his first message!
He briefly discerned the priesthood before feeling he was called to marriage. One of his friends had just signed up on Ave Maria (but is now in seminary, actually), so he decided to give it a shot! He sorted through all of the women's profiles on Ave Maria with his mom before settling between me and one other girl. He decided to message me. I tease him about having his mom pick me out, but it was really great that he used such careful, intentional, discernment.
We spoke on the phone for two months before we met — the meeting was awkward, but by day two I knew he was 'the one.' About six months after that, a job opened up in Michigan. He go the job and moved. The rest is history.
We've been through a lot - unemployment, moving cross country - we now live in Kansas - three kids in four years, but we would't trade any of it.
All Success Stories