Questions? We're here to help.
Contact us.

More Quizzes and Results
Reason for Hope
Jason (from MD, age 26) and Darcy (from WI, age 29)
Married on September 1, 2001

Read more from their story...
Read More Success Stories...
Catholic Dating Quizzes!
Featured Resource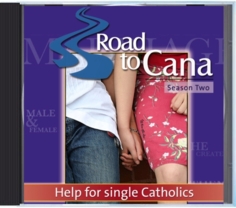 Road to Cana Season 2, Radio Version

The entire 17 programs of Season Two of the Road to Cana series in MP3 format on CD. This CD will play in a CD MP3 player, or you can transfer MP3 files to your computer, iPod or MP3 device. Get it now!
Devin & Catherine: Who Would Have Thought...
Chapter 1: The Dust Off
I, around the time that I first started corresponding with Catherine and she gave me the "dust off".

I am a member of two Catholic singles sites: Ave Maria and another well-known one. I had been a member for over 4 years on both, and though I had emailed many, many ladies, talked on the phone with a few, and even met a couple in person, nothing ever panned out.

So my usage of these sites became a perfunctory search about once per month to see if anyone's profile struck my eye, and I was on the other site one night when I ran across a girl named Catherine whose description of herself leapt off the screen at me.

She said she loved being a woman and talked about pearls and dresses and feminine genius ala John Paul II. She said she was looking for an Ephesians 5 kind of man, a big, hairy man ("I got those covered," I thought to myself, "well, at least the big and hairy part"). It was kind of hard to tell what she looked like from her pictures, as it usually is since they're about one square centimeter in area, but I thought I might be attracted to her, so I sent her a message.

Catherine responded after a day or two, and she was interested in corresponding. "Cool," I thought. We exchanged a few emails over the course of that week, and then I got an email from her saying that she had decided to correspond with another guy and that she didn't want to email me anymore.

I was somewhat disappointed, but since I had only invested a few emails-worth of time into the matter and had run into this sort of thing before in the previous years of being on these sites, I just sent her one last email wishing her well and telling her that "whomever our Lord has chosen for you is a lucky man".

And my life continued as normal--I didn't expect to hear from Catherine again.

Devin
Chapter 2: God Intervenes
Catherine (Katie) hanging out!

I was unsure of this "online" business from the start! But, after breaking off an engagement and reading "The ABC's of Choosing a Good Husband," I felt like I should be open to meeting future St. Joseph's through the internet.

So, I joined another Catholic site in August 2005. Still, I didn't take my participation on this site very seriously; in fact, I remember telling one friend, "I don't intend to ever meet any of these guys. This is just fun and silly!" It was with this attitude that I first met Devin in September and soon, thereafter, ended our correspondence. Silly me.

But, the Holy Spirit was at work.

As the weeks of online flirting passed, I began to feel the Holy Spirit drawing me to Ave Maria Singles as the place I would meet my husband. Really, Lord? Are You sure? In obedience, I signed on with AveMaria in October and, surprise!, encountered Devin's profile. I was glad to see a familiar face and, immediately felt very drawn to him. Thus, I e-mailed Devin to say hello. We're back on track!

Catherine
Chapter 3: Covering the Bases Paid Off
Gerardo on the left and me on the right during Christmas

Out of the blue I got a message from Catherine through Ave Maria, which was quite surprising, and she didn't mention anything about this other guy she had been corresponding with! I didn't press the issue but instead just tactfully but directly asked her if she wanted to correspond.

Here's the cool thing: I joined both Catholic sites, the other one and Ave Maria because I thought, "Well, Lord, I'm going to cover all the bases here in case the girl you have for me is on only one of them." Leave it to God not to be outdone in generosity and in answering prayers.

So we started corresponding and pretty quickly exchanged emails discussing important matters about our journeys to God and the Catholic Church. Soon, I wanted to talk to Catherine, whom I now knew as Katie, on the telephone.

Devin
Chapter 4: My Digits
My sisters and I at our brother's wedding in October '05

So, Devin asked if he could call--very forthrightly and deliberately, as the wonderful initiator-of-the-gift that he is. Now, I had read Steve Woods, "The ABC's of Finding a Good Husband", and liked the notion that, as we discerned courtship, my family should be involved.

So, I asked Devin, with some trepidation, to please e-mail my dad for permission call me. Devin promptly e-mailed my dad and received clearance. And, I began to wait for his first phone call.

Catherine
Chapter 5: Come Holy Spirit--this girl is amazing!
Me in a joke photo sporting a Livestrong bracelet after defeating Super Mario Bros.

I TOO had read "The ABCs of Choosing a Good Husband" in order to find out what holy and beautiful girls looked for in a guy, and also "The ABCs of Choosing a Good Wife" which is quite similar except from the male's perspective, so I feigned being put out by being asked to contact Katie's dad, but was secretly very pleased, and then revealed to Katie that it was a delight to get to do things "the right way".

I got her dad's permission and called her soon thereafter. Unfortunately, I got the answering machine, but what a message! It began, "Come, Holy Spirit, fill the hearts of the faithful, and kindle in them the fire of Divine love". Then, this amazing girl said, "You've reached Katie's voicemail!" in the most bubbly and friendly voice I had ever heard.

I left a message and told her I would try back again. After a day or two, we connected and first talked on the phone. Our first conversation went okay, I thought, nothing spectacular, but I wasn't expecting that. Then I asked her if I could call her again, and she said yes, so I did after another few days. This conversation also went pretty well in my opinion, and I was happy to just keep talking on the phone so we could see how God wanted things to be with us. I found Katie interesting enough to continue wanting to talk to her--little did I realize that Katie had a different take on our first conversations that required Divine Providence to step in and save once again!

Devin
Chapter 6: Skittish
Katie looking pretty in her home

I was impressed that Devin called me immediately after receiving permission from my dad. It was so strange and exhilirating to finally hear his deep bass voice on my answering machine!

We connected a few days later and talked for about an hour. It was fine, but I just felt so nervous. I still wasn't sure if I wanted to meet a guy via the Internet and have a long-distance relationship, if I wanted to engage in the process of discerning again. I didn't know how much I wanted to risk.

After two such phone visits, I was ready to thank Devin for his calls but tell him that I didn't really feel led to courtship. My nervousness had hampered my ability to be authentic during our conversations, and I felt frustrated.

So, it was Friday morning, and I mentally prepared a little speech for Devin. I felt disappointed because I had hoped that we might truly be complementary, but I supposed I must have been mistaken. After ending our correspondence once before, I prepared to do so again. Except, God seems to have had other plans.

Catherine
Chapter 7: Rescue #2 by our Lord
What a bad-itude

I was blissfully unaware that Katie was preparing to end our friendship. It was a Friday night after work, and I went over to my friend's house who has 5 children. We hung out, and I was feeling joyful and hopeful about life and Katie, so I called her on my cell phone on my way home from their house.

She was there when I called, and we had a really easy and fun conversation. We talked for some time, and after we got off the phone, I was very excited about our relationship. I still had no clue that Katie had been preparing to break everything off, and I wouldn't know about this for a good while (thankfully).

Devin
Chapter 8: God Intervenes...Again
Katie holding her nephew Adam

Devin did call me that Friday night, out of the blue, and charmed me with his wit and intelligence. This phone call wasn't planned, and I had no time to become nervous, so we just had FUN!

We visited for nearly two hours that night. When we finally said goodnight, I felt hopeful and filled with joy. "Okay, Lord, I do see how this man COULD be Your plan for me." (Sidenote: I'm not sure if this makes sense, but our courtship was an amazing experience of assenting to what I perceived to be the Holy Spirit's lead to marriage, with no certainty of who Devin really was, only to be repeatedly amazed by how perfectly we were matched.)

After that break-through phone call, we proceeded to spend countless hours on the phone, praying together and sharing about ourselves. It was a wonderful time of discovery!

Soon, it was time for the next step...Come Holy Spirit!

Catherine
Chapter 9: The Visit
"Oh yeah, the GREEN chile enchiladas..."

Our conversations were going great, so I felt it was time for me to travel to New Mexico and visit Katie. I asked her if she was amenable to this idea, and she was, so we made plans for me to come in early January.

Her parents, and 5 of her 7 siblings, were going to be home during my visit, but Katie wanted to meet me first before introducing me to everyone, so we met at a local restaurant. I bought a white rose for her and watched her walk across the road toward me, full of nervous energy. Would she be attracted to me? Would I be attracted to her? The pictures on the website and the additional ones we sent were not enough to really know until we met each other face-to-face.

I gave her a hug and handed her the rose, and then we went in to eat. It was kind of strange to see her and talk with her--I couldn't immediately connect this person in front of me with the image of the person I had formed in my mind in the past 3 months of email and phone conversations.

We finished dinner and then went to her home where I met many of her family members. We had an okay time. I went to my hotel room that night, unsure how I felt about her and whether there was any chemistry between us.

The next morning, we spent some time together in Adoration, which was nice because both of us love to adore Our Lord in the Blessed Sacrament, and then we had lunch together and hung out with her family some more. I was not feeling any chemistry. We had already planned a "date night" that night when I was to take her to a neighboring town for a nice dinner. First, we decided we would take a break and have a little rest, so I went to the hotel and took a nap.

I prayed and asked God what he wanted because I didn't feel chemistry between us. The thought immediately popped into my mind, "Have fun and be silly with her". I went and picked Katie up, and on the hour drive to the restaurant, I put in a U2 CD that I knew she was familiar with and began singing the songs together with her! It was a lot of fun.

After the good car ride, we made it to the restaurant. It had a cozy, Spanish-Italian atmosphere, and we had a great dinner, exchanging gifts we had bought for one another. After the meal, we walked around a cool historic town square in the area, and then we drove home.

On the ride home, we put in the compilation CD I had made for her, which included a number of Christian songs that both of us knew, and we sang them together! Our Lord enkindled the fire during Caedmon Call's "Lead of Love". :)

Devin
Chapter 10: God Intervenes Again...Seriously
The last day of our first visit together, after our Lord worked his magic!

I felt the same level of attraction that Devin mentioned...namely, not much.

We spent Friday afternoon and Saturday morning together, visiting a local winery, sharing a bonfire with my family, and eating at Palmas, a local Italian bistro; our interactions felt disjointed, and, by Saturday afternoon, I was quite disappointed. It was confusing because Devin and I had become friends through our e-mails and phone calls, and, in addition, I had felt deeply attracted to him.

Still, I prepared to end my friendship with Devin as I dressed for our Saturday evening date. My wise mother, however, had a few words for me before Devin arrived; she said, "Honey, just be open. Let Devin lead and just go with it." So, I decided that I would be open, that I'd enjoy our date and simply have fun. After all, I got to have a dinner date with a handsome tall man, and I was wearing a cute outfit! :)

That evening, grace fell, and romance blossomed between us. By the time we ended our date, I was feeling quite attracted to Devin. It happened easily and naturally.

The next day, Sunday, Devin asked me to be his girlfriend, and I agreed a few days later. Our courtship flowed easily, as we traded visits and delighted in God's gift of each other. Soon, the Holy Spirit led us again...

Catherine
Chapter 11: Love and Engagement
My proposal to Katie!

As Katie said, we made trips to visit each other every three weeks or so, and I began asking our Lord if he was calling us to marriage.

We both had talked about the possibility, of course, since that was the whole reason we were on Ave Maria in the first place, but it still took some time for me to realize that I did love Katie and that I wanted to marry her.

One morning, however, I woke up, and the whole world seemed wide open to me when I pictured me and Katie being married. Life felt fresh and beautiful, and this was confirmation of the growing certainty I felt that God was telling me that she was the one for me. So, that day, I called Katie and told her that I felt our Lord was definitely leading us to marriage, and she felt the same way!

On our next visit, I couldn't wait any longer to tell her I loved her, and she smiled with peaceful joy and told me that she loved me as well. At the end of that visit, I began to plan my surprise proposal to her.

I planned the surprise visit just after Easter. I arranged with her dad to take Katie and her family to Palma's, the Italian restaurant we first met, and then called her on their cell phone just as they got inside the restaurant and told her I needed to talk with her about something. Then I came out from my hiding place and surprised her with flowers and pulled out the diamond engagement ring and proposed!

Blessed be God, the proposal went exactly according to plan: I recited some beautiful verses from Hosea that we had read together ("I will betroth you to myself forever...") and then I told her I loved and her got down on one knee to ask her to marry me.

Devin
Chapter 12: In the Name of Jesus Christ...
Praying the Rosary just before our wedding began

I was quite surprised by Devin's proposal! Not that he proposed, mind you, but when and how. Blessedly, I was not too surprised to remember by reply. "Devin, in the name of Jesus Christ, with the help of Our Lady and St. Joseph, I will be your wife."

Oh, it's so wonderful! I will be Devin's wife on October 7, 2006. We have both waited long for the gift of the other. Truly, we feel like the words of Song of Songs are meant for us, "I adjure you, daughters of Jerusalem, do not arouse, do not awake love before its own time." We thought we were ready for the other, the one who is "flesh of our flesh and bone of our bone", years ago; but, Our Lord knew the perfect timing, and we are so grateful!

You can read the complete engagement story and see our photos on our blog.

Thanks for reading our story. Alleluia!

Catherine
Find your story on Ave Maria Singles!