Questions? We're here to help.
Contact us.

More Quizzes and Results
Reason for Hope
Dave (from TX, age 36) and Paula (from Ireland, age 32)
Married on December 29, 2003

Read more from their story...
Read More Success Stories...
Catholic Dating Quizzes!
Featured Resource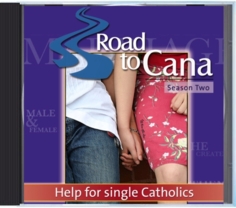 Road to Cana Season 2, Radio Version

The entire 17 programs of Season Two of the Road to Cana series in MP3 format on CD. This CD will play in a CD MP3 player, or you can transfer MP3 files to your computer, iPod or MP3 device. Get it now!
Daniel & Donna: Hi Anthony
Chapter 1: Hi Anthony
Engaged

Over the last several weeks I have been in contact with several wonderful women through the service. One lady in particular has become special and I have decided that it is time to concentrate on exploring an exclusive relationship with her.

At this point I cannot say specifically what the result will be. We have in common a faith in Jesus and an adherence to the teachings of the Church. Additionally we have a mutual attraction and several common interests. I hope that with the help of the Holy Spirit we can discover in each other the companion we are searching for.

God bless, Dan
Chapter 2: Dear Anthony,
The cutting of the cake!

Recently my account expired on AMSCOL. I am not planning to renew it for the reason that it has served the purpose. I am very happy to report that I have met the woman of my prayers through your service. When she makes her second visit in September I am going to ask her to marry me and I already know the answer will be yes. It has been a long prayerful wait for me to find a good Catholic lady. Thank you for your support. Her name is Donna Kocis. She signed up in early October of 2000. I was her first contact and it was only a day or so after she signed up! Like many of the others who have tried this service I believed that it was my last hope. Maybe it was but it has been a blessing for me. I met so many wonderful women. Not all of them were a match but one is all it takes and I have found her! The best attitude is patience and perseverence. Very little worthwhile is gotten easily. Many times I thought of giving up but I didn't. I thought that the distance between us would be a major problem because I have an aversion to travel. It is a problem, but one day I found myself in the world's busiest airport leaving on a plane to see a lady several states away and not having any regrets. If you are serious about finding your mate you do whatever it takes. You don't turn away when God gives you that precious gift you have prayed for just because it isn't quite the way you wanted it. I will try and keep in touch and let you know "the rest of the story" as Paul Harvey would say. Thank you and God bless you and your service!

In Christ, Daniel
Chapter 3: Dear Anthony,
I just wanted to send you a personal story and some additional good news. I joined (then) SCOL in June of 1999. I had been a member for well over a year contacting, or attempting to contact, over thirty women. On October 5th 2000 a new member appeared in a search that caught my eye. There was no picture but the responses she wrote for the essay questions impressed me. In addition her physical description matched my general desires in a woman so I decided to contact her. I sent her a message through the service and she replied the following day with a message like I had rarely seen before. She was open and honest and there was something about her personality and beliefs that I could not dismiss. She liked the way I went into some detail in my introductory message and gave her something to evaluate me on rather than the one or two line messages she received from other members later on. She said that I "spoiled her" for the other members. She also enjoyed the rather unusual advertisement I had written. Some of your members may remember the advertisement written in the style of a transcript of a standup comedy routine about my troubles dating women. I did not know what she looked like for several weeks. By then it didn't matter. We corresponded every day, made a few phone calls and in May of 2001 she flew out to visit me. Almost immediately I knew she was the one and she knew it too. She wasn't like meeting a stranger for the first time but more like an old friend. In July I visited her and met her family. I don't like traveling or airports. I never thought I'd be going to O'Hare and getting on a plane to Pennsylvania but I did it happily. She returned in September for another visit. By this time we both knew what we were going to do, but to make it official, on September 8th, under an old oak tree, I asked her to marry me and she accepted. This event was important to me and to her because it made our intentions official and helped to clarify the reality of what we were only thinking about before that. She is planning on moving to Illinois in a few months and we have a confirmed date to marry on June 8th 2002. Just to keep the record clear, she will be living in her own apartment until we are married. You would not believe how many people suggest that it would be so much cheaper for her to move in with me. I always reply that I don't care what the expense or inconvenience is, we are not going to live together outside of marriage because it's wrong. When I contacted Donna I knew that she was not like any of the other women. I was her first contact so she was not able to compare me with others until later. It was not immediately apparent that we would get serious. In fact we tried very hard not to get serious. We both had reservations about the distance and we both wanted to take things slowly and deliberately. As a result a close friendship developed well before we began to think of each other as marriage material. I fostered this friendship with frequent detailed letters, photos and videotapes of my home and work. This and the incremental discovery that we had so much in common and thought alike on many aspects of our lives began to sum up into a mutual attraction on a deeper level. When her visit confirmed that there were no surprises I confessed that I had fallen in love and to my delight she immediately responded in kind. The main thread running through our relationship is our devotion to the Blessed Mother, our mutual love for Jesus and a desire to help each other to get to Heaven. We try to be guardian angels for each other resisting temptations and offering mutual support. I don't expect a storybook ending where everyone lives happily ever after. We both realize that there will be times when things are not so smooth and tranquil. We do agree that when things are not good it will take an unreserved commitment to each other and a total dependence on God to help us. Developing a relationship was not accidental and it was not by chance. It was the result of lot of hard work and perseverance. Waiting to meet someone at church or by chance is a dead end. There are few available singles going to church today. Once I found the means to meet single women of similar religious convictions and lifestyle I had no good excuse not to use it and exhaust every opportunity. It would be easy to give up after so many rejections and failures and say that God wants me to be single. I was badly burned by one SCOL member misrepresenting herself. I adopted the attitude that every contact was an opportunity to learn and develop an ability to discern who was appropriate and who was not. Rejection became a means to an end instead of an excuse to give up in self pity. Even so it was not always easy to accept being turned down by an interesting attractive lady. The joining of a man and woman in marriage is indeed a holy thing and a gift from God. When I would get discouraged I thought about those words. Even though at times it seemed there was little chance of finding a wife I knew that if I gave up there would be no chance at all. I want to personally thank you and your staff for developing this means to carry out God's plan for singles to find good Catholic spouses. Without it I would almost certainly have ended up permanently single. I would also like to thank and place most of the credit with the Blessed Mother and her Son. Without their help and encouragement I would certainly have given up. Like any tool, your service will not do all the work while the members "hang out their shingle" and wait for someone to walk into their life. Once that tool is available it's up to the user to pick it up and make the most of it. It takes commitment, work, perseverance, willing communication and some degree of risk getting hurt on the part of each of the members to make it happen. I wrote an awful lot of introductory messages, got a lot of rejections and a good share of non-replies. I also corresponded with a number of wonderful Catholic women and learned a lot from them. All in all it was a good experience. It was an adventure that is still unfolding and I hope it never ends. I will keep in touch and send a photo when we have one available.

Yours in Christ, Daniel
Chapter 4: Dear Anthony,
You've already heard my fiancé's story of his experience with your service and now I'd like to tell you a little about my experience. First of all, I must recognize my former pastor and his pastoral associate who introduced me to Ave Maria SCOL when they included your premier magazine in the CCD documents I received at the first catechist meeting in August of 2000. It took me some time to read through the magazine and decide what I was going to do. I had seen advertisements for your service prior to this but I was apprehensive about the Internet. After reading your magazine, I decided I would give it a try. On September 29th, I found myself attempting to join the service after a failed attempt earlier that month. I didn't complete my profile until October 2nd when I officially became a member. I thought I would give it a year and see if anything happened. Just three days later, on October 5th, I received my first message from a very special man by the name of Dan. His detailed message revealed a lot to me about his character. He seemed very sincere and offered advice, made a suggestion, and it was apparent to me that he took the time to read through my profile to find out the type of person I am. The obvious problem was that he lived very far away. I preferred to meet someone local and his message revealed that he had felt the same way but he admitted that it didn't seem like that was going to happen. I read through his profile and it was amazing how our views on matters of our faith were so similar. I was also very impressed at what his goals in life are and the description of the type of person he was seeking. In addition, he had this great sense of humor. The next day I replied to Dan's message. I decided then that I would keep an open mind about the distance. I really wasn't expecting him to continue to correspond with me so I was very pleased when I received another message from him not long after that, this one more detailed. We were beginning a friendship that would continue to grow over the next few months. I think it was important to both of us that we become friends first and we took the time necessary to do just that. We came to know so much about each other and after a few months it was becoming increasingly evident to me that I wanted and needed to meet Dan in person. I knew he didn't like airports or traveling so when he offered an invitation to me to visit him, it didn't take long for me to decide what I was going to do. It had been a few years since I had flown and never by myself but I did not hesitate when I made my reservation and got on the plane. I had no trouble spotting Dan when I entered the terminal at the airport in Illinois. I was finally meeting a very good friend I had known for a long time. We spent the next few days enjoying ourselves and getting to know each other better. We attended Mass together and Dan took me to meet his parents who made me feel so welcome. I also had the opportunity to meet some of his friends and to become familiar with the area where he lives. It didn't take long before we both realized we were in love. It was difficult saying good-bye at the end of my vacation but we knew this was just the beginning of something very special for both of us. Dan came to visit me in Pennsylvania for a few days in July. This man who disliked traveling and airports got on a plane at O'Hare Airport in Chicago to come visit me! If that isn't love, I don't know what is. While here, Dan was able to meet many members of my family and became a little familiar with the area where I've always lived. After he returned home it seemed our messages began to mention marriage quite often and although nothing was official, it was apparent that this was the direction we were headed. I made a trip back to Illinois in September for another visit and on September 8th, the feast of the Birth of the Virgin Mary, Dan asked me to marry him in the same place where he first told me he loved me. I knew this was coming and there was no hesitation when I gave him my answer. I know that this will bring big changes to both of our lives and many sacrifices but I am looking forward to sharing my life with Dan. Our wedding will be on June 8th, 2002. Admittedly some years ago I had given up on finding a spouse to share my life with. Through the intercession of our Blessed Mother, our prayers have been answered in ways that we never could have hoped for or imagined. Dan and I both feel very strongly that God brought us together and we know that He will be a source of strength for us throughout our marriage. I sincerely believe that God knows what each of us needs and He answers all of our prayers but not always in the way that we expect. I feel so blessed to have met Dan at this point in my life and I am so thankful that he persisted and didn't give up after the many rejections he experienced. We've both worked very hard at this relationship to get where we are today. The distance continues to be difficult but it helps to strengthen the spiritual bond that has formed between us. I plan to move to Illinois in February to be closer to Dan and to begin to plan for our future together. As he has already mentioned in his letter, I will be living in an apartment before the wedding. Although this means that I will be moving twice in a few months time, we wouldn't have any other way. Marriage is a sacred union and we will not be living together before we are joined in this holy sacrament. I totally agree with Dan that this has been a very good experience and it continues to get better. I hope that our story will encourage others who are still waiting for their prayers to be answered. I will be forever grateful to God for Dan and for AMSCOL. I've been blessed with the virtuous Catholic man that I am going to spend the rest of my life with.

Yours in Christ, Donna Kocis, the future Mrs. Daniel Schoo
Find your story on Ave Maria Singles!